White Paper : SOC & State of Art SIEM Workflow
Through our experience in rendering man-aged SOC services, we have realized that each enterprise has its own unique security requirements and our service should be wholly customer-centric.
Entrepreneurs today realize that cyber threats are becoming more hostile than they have ever been. As hackers and malware turn out to be increasingly sophisticated, organizations are in need of advanced solutions right from protection, detection, prevention and remediation in the quickest and most effective ways. No enter-prise risk management is complete if it does not take measures to address the potential impact of cyber vulnerabilities. However, the advanced technologies and tools, the enterprises are adopting to guard the busi-ness against threats add to the expense and they struggle to handle the complexity of their security opera-tions. In order to achieve greater operational efficiencies, organizations have turned to seek assistance from SOC Managed Services providers.
SOC Project Scope
---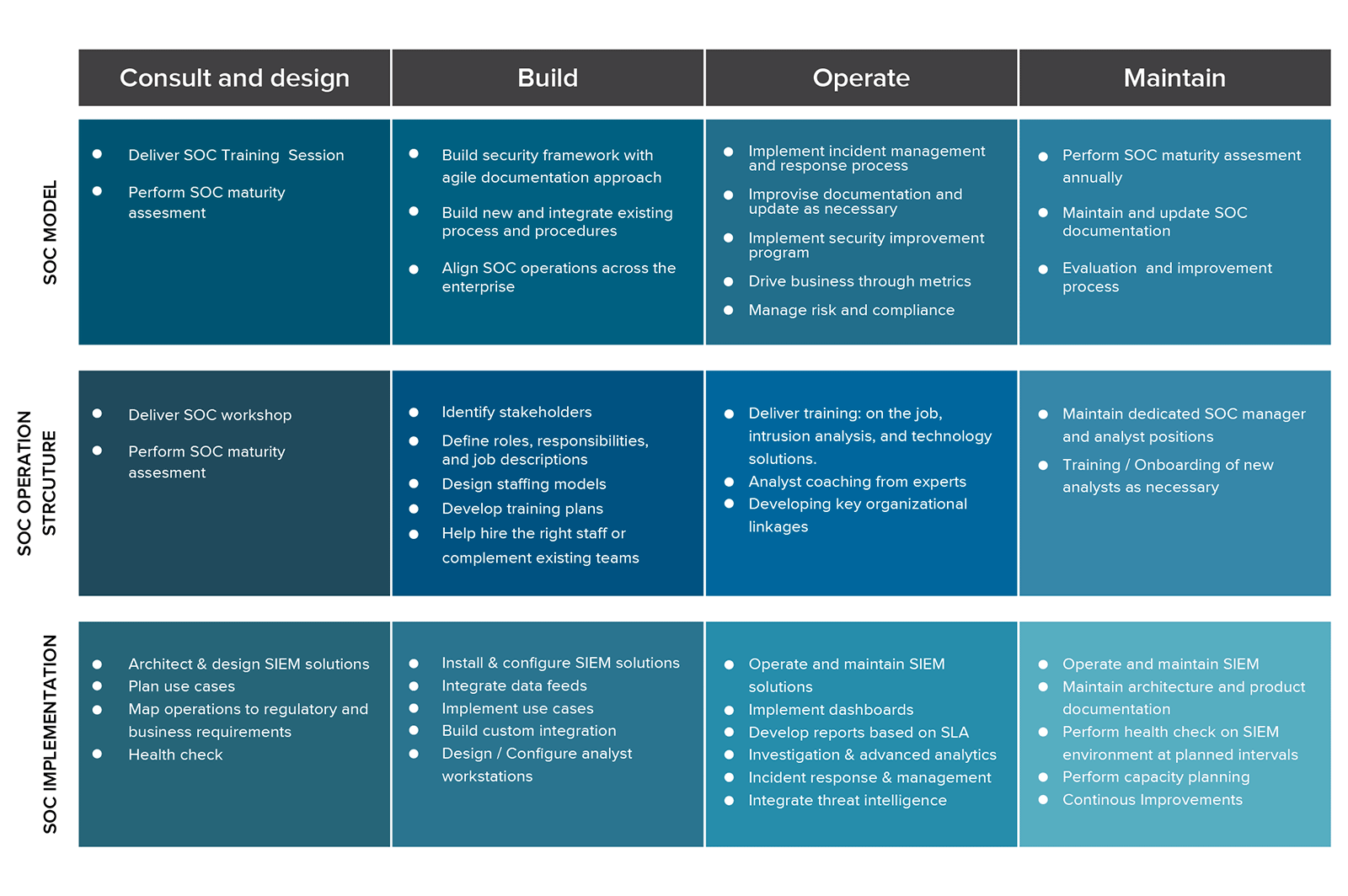 To counteract the new vulnerabilities and attacks encountered each day, HashRoot's Managed SOC services encompass prevention, detection, and remediation. We formulate a cohesive and integrated approach to generate an in-depth view of security issues. Encompassing a team of skilled security and R&D specialists, we are always at the forefront when it comes to consistent performance and continuous availability within the ever-changing threat landscape. We ensure to improve your enterprise's risk posture by overcoming the security challenges and by reforming the operations for sustainable, long-term performance.
Our SOC Service Offerings
---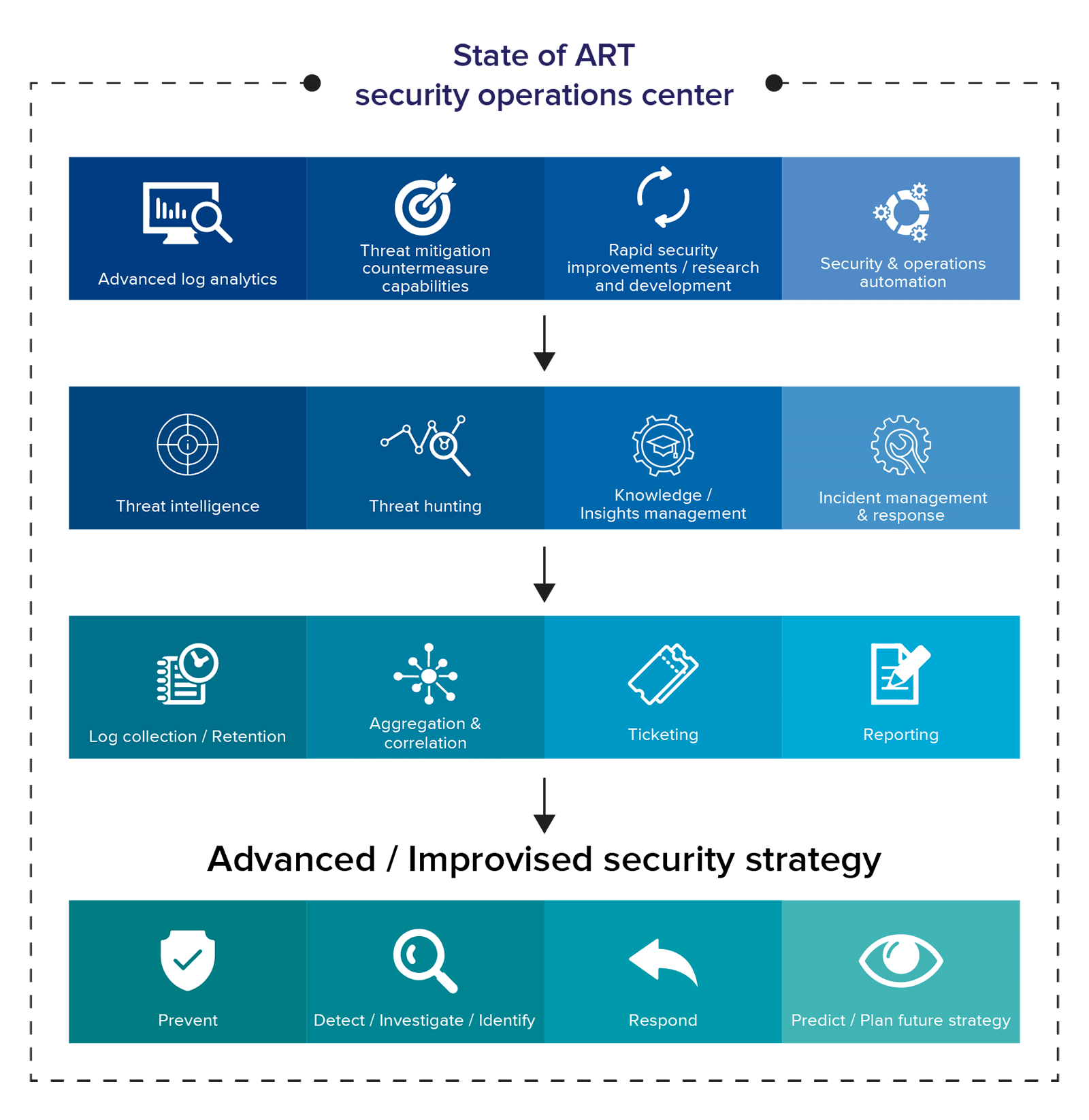 Take a look at our tailor-made solutions that protects your organization's security ecosystem.
Security Monitoring
With round the clock monitoring, we detect potential threats across your network, users and applica-tions. Our security monitoring services include real-time alerting, event log monitoring, proactive hunting, com-pliance reporting and so forth.
Integrated Threat Intelligence
HashRoot's threat intelligence help you to get ahead of cyber threats by analysing internal threat data, attacker's behaviour, industry CERT's, vulnerable areas you are prone to attack, intelligence from anti-malware vendors and OSINT.
Proactive Threat Hunting
Our threat hunting practices proactively verifies suspicious activity alerts, explore the spread and termi-nate the attack. We uncover advanced threats that are left undetected and eliminate the security perimeter before they cause massive destruction.
Threat Detection
We offer sophisticated threat detection capabilities by combining collective intelligent practices such as threat intelligence, big data analytics, behaviour anomaly detection and so forth. Our threat detectors always keep an eye on your infrastructure to detect any changes and remediate swiftly.
Incident Response Platform
An organized incident response platform to handle the aftermath of a security breach, such that damage, recovery time and cost are reduced in a significant manner. However, we endeavour to eliminate security breaches when we take care of your business.
Malware Analysis And Forensics
Armed with latest malware detection and forensic tools, we enhance the assessment of security incident by capturing, analyzing, and resolving breached data security. We also assist in the remediation proce-dures and help in preventing further damage.
Vulnerability Management
Our vulnerability management service involves continuous monitoring to identify, assess and remedi-ate critical vulnerabilities in your IT environment. Through our vulnerability analysis and information gathering you could witness an improvement in the security posture.
Reporting
You are free to report incidents and raise service requests round the clock and our SOC experts work for a fix ensuring quick issue resolution. We provide you with detailed tailored reports mentioning the incident, actionable response and remedial activities.
How Do You Benefit?
---
Witness how your organization can counteract the modern cyber threats
Proactive Risk Management
With a blend of vital key components, proven methodologies, relevant tools and techniques, your business can effectively meet the risk involving the modern cybersecurity challenges.
Technological Advancement
Managed SOC providers stay abreast with latest technological advancements and implement a future-proof technology that matches the client requirements.
Economically Savvy
Your business can avail a continual, real-time monitoring across your security environment within the stipulated budget and time frame.
Powerful Automation
Deployment of automated vulnerability scans can reduce the need of resources and also ensures the authenticity of the results.
Adhered To Compliance Standards
While other companies are investing a huge amount and effort to regulatory compliance efforts, your company's compliance with IT security regulations are maintained without much efforts.
Security Operations Workflow
---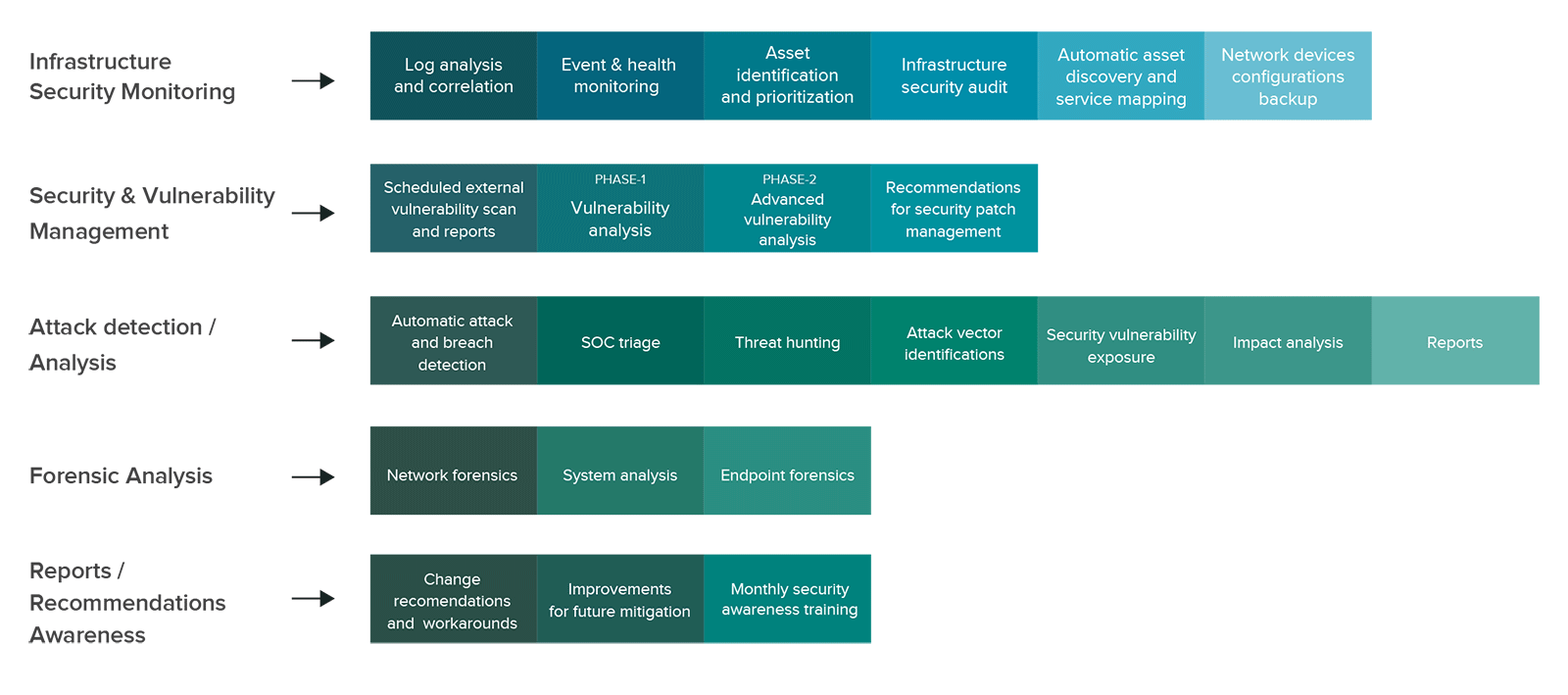 AlienVault On Premise Implementation
---
Vulnerability Assessment and Remediation

Managed Detection and Response (MDR)

Threat and Malware Detection

Log Management, Monitoring, and Archiving

Managed SIEM or SIEM-as-a-Service

Continuous Compliance Management

Cloud Security Monitoring
AlienVault USM
---
Asset Discovery

Vulnerability Assessment

Intrusion Detection (IDS)

Cloud Security Monitoring (Azure and AWS log analyis)

SaaS Monitoring (e.g., Office 365)

Security Services Monitoring (e.g., Okta)

Compliance-certified Log Management

Compliance Reporting