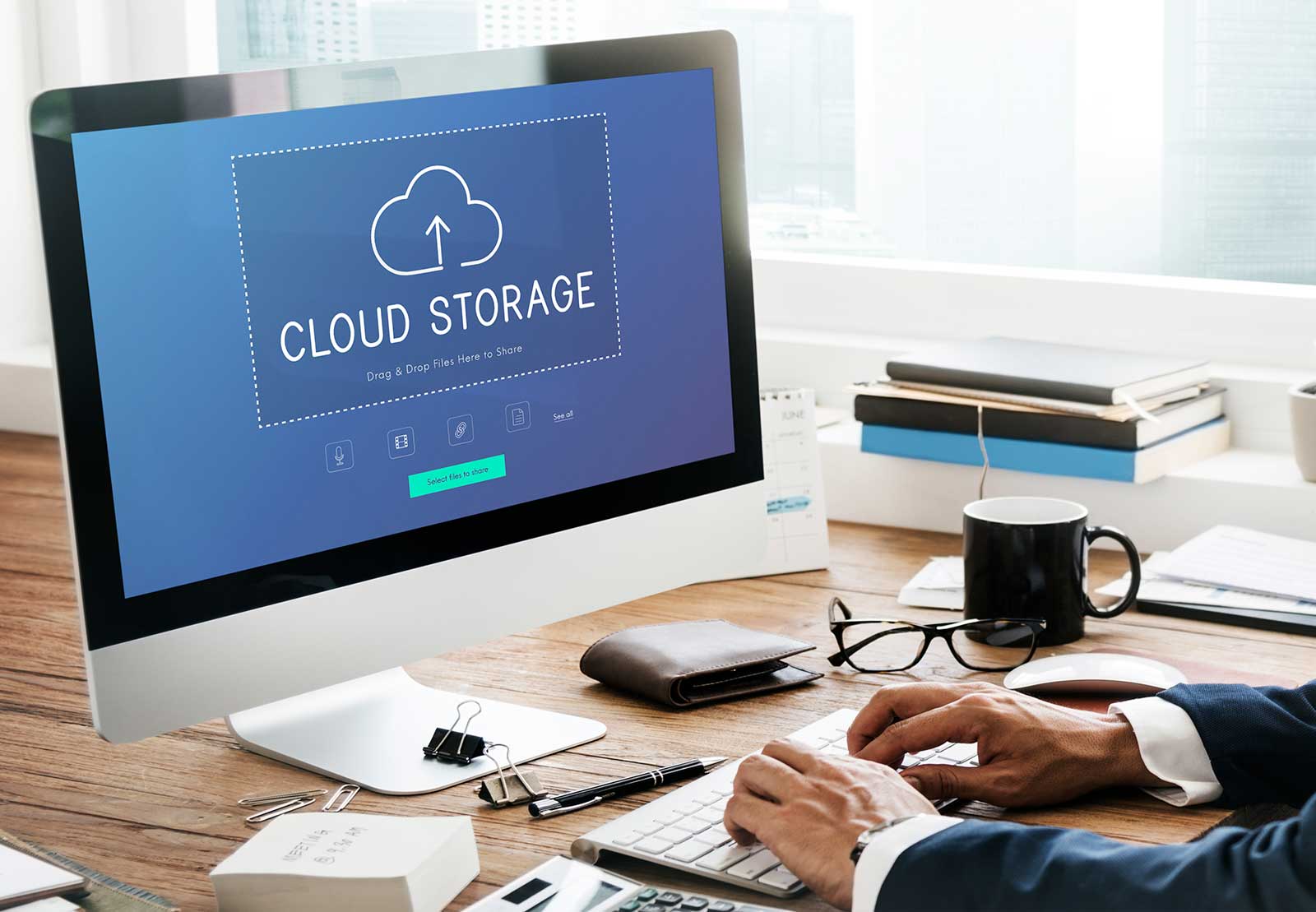 HashRoot Cloud migration services
With deep expertise in cloud migration services, HashRoot ensures a business transformation that derives maximum benefits of the cloud.
Cloud migration is the right choice for businesses that need to bridge the gap between growing business demand and IT capacity. Migrations are often more complicated as it deals with massive data volumes and distinct workloads. A successful migration should ensure transition with zero business impact.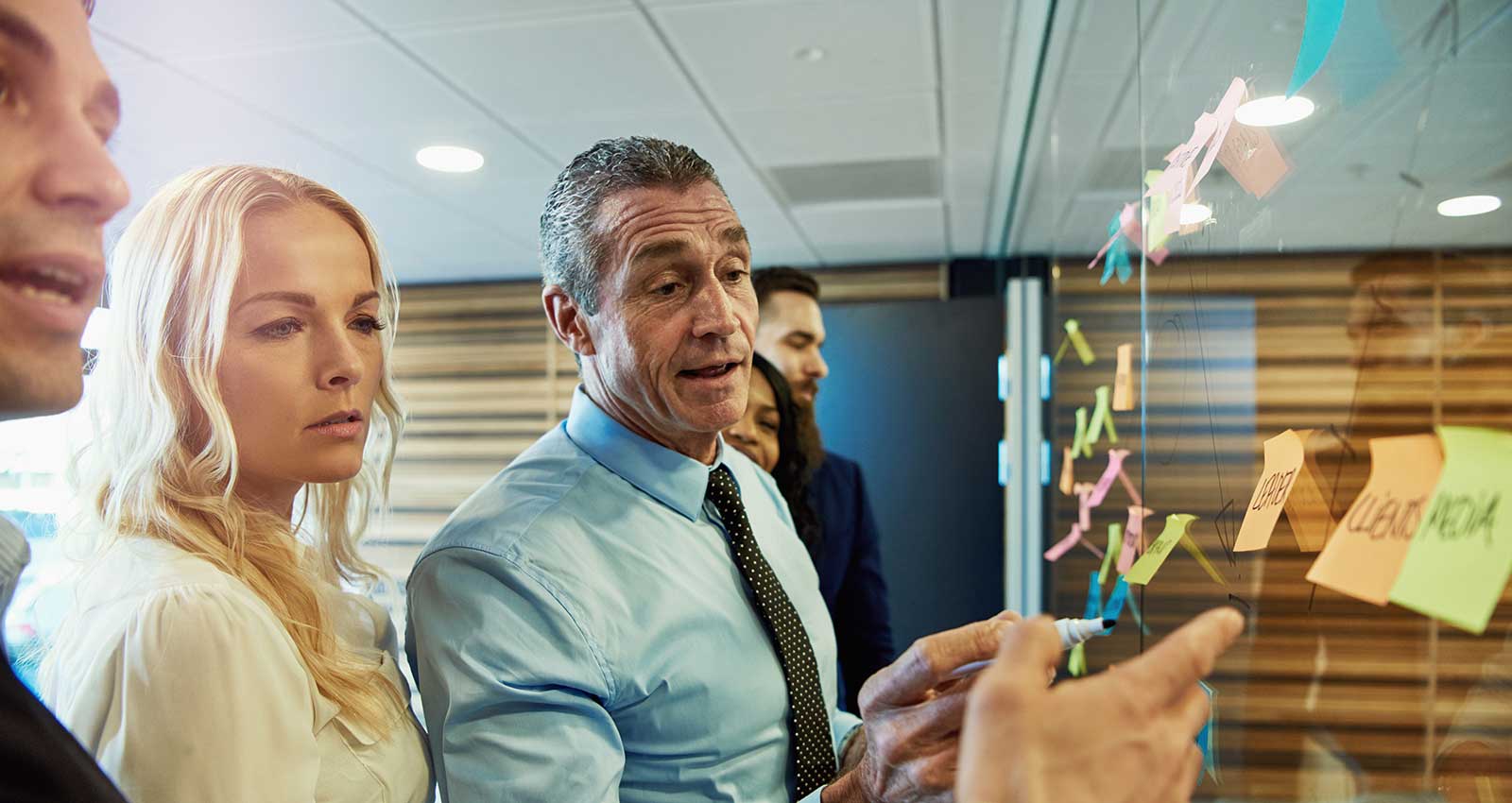 How We Perform Cloud Migration Services?
We continuously integrate new technology and automation to tackle simple to complex migrations in a seamless manner. Our time-tested, proven approach to cloud migration easily migrate business-critical applications and IT infrastructure with minimal downtime and reduced risk.
Careful planning and strategic, proven approach play a major role in enabling successful migration from your current IT infrastructure to the cloud. Before you start the actual migration to the cloud, it is important to develop a cloud adoption strategy with proper planning, execution and optimization procedures. HashRoot ensures to create a comprehensive migration strategy that makes your business benefit tremendously in terms of speed, efficiency, and cost as you move to the cloud.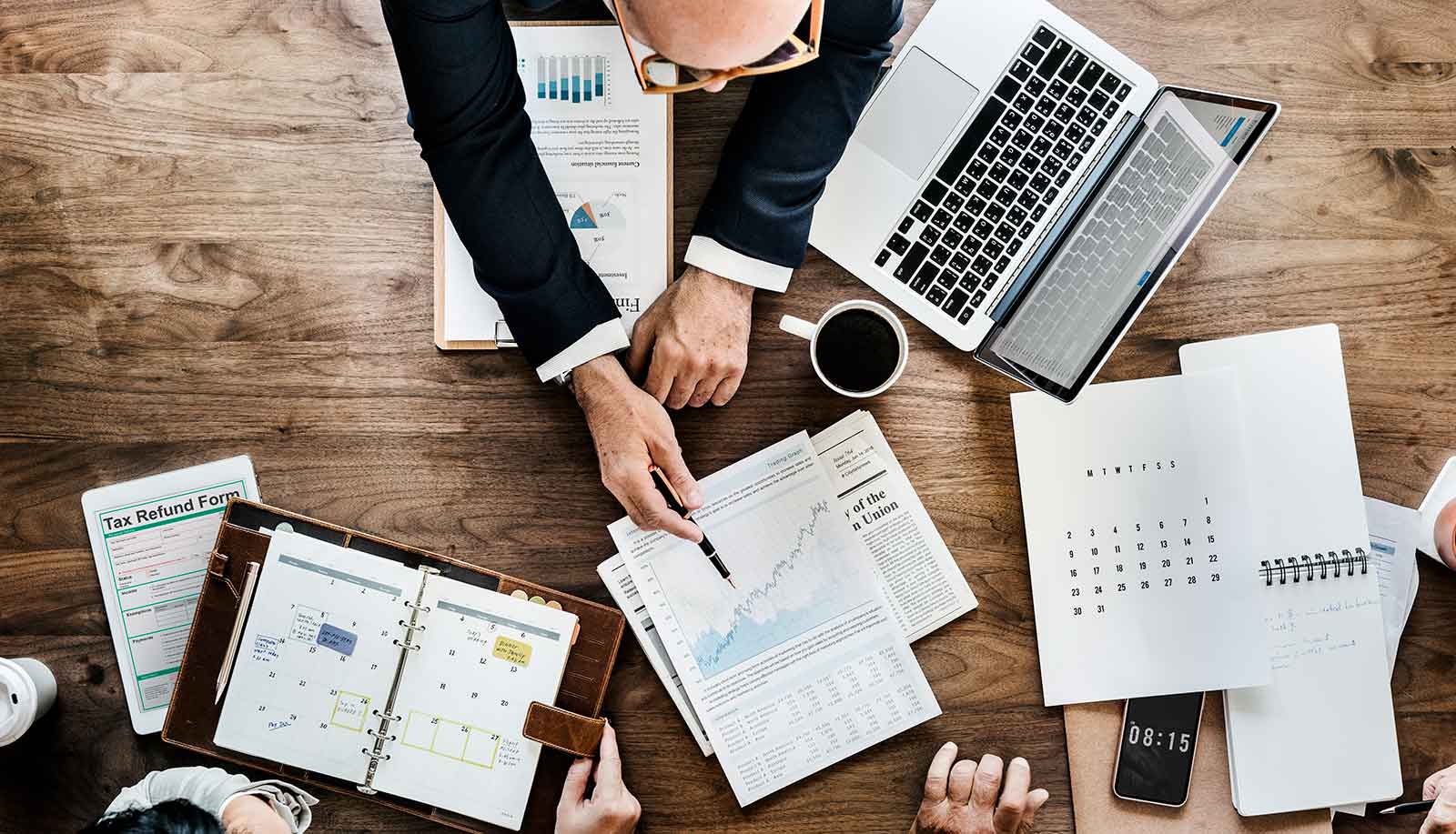 The Approach
Based on the knowledge and experience in cloud migration across industry verticals, HashRoot defines a structured approach for rapid cloud migration. We evaluate all the key parameters including applications, workloads, and processes you currently use and devise a streamlined migration approach as follows.
Migration Planning
---
In the planning phase, our cloud consultants will work with you to get a clear understanding of your business requirements and objectives. Based on the findings we develop a preliminary business case for migration.
Identify strategic business outcomes

Defining cloud strategies
Creating a cloud migration plan
Identification and Analysis
---
In the next phase, we take steps to understand your IT portfolio and determines answers for three queries: What should be migrated? How to carry out migration? Where should be migrated?
Identify all existing workloads and applications

Identify the dependencies between applications
Analyze migration strategies to be employed
Design and Development
---
Your cloud architecture design needs to properly planned and carefully executed. Our cloud architects enable efficient, secure and economically savvy enterprise-level digital transformation.
Prototyping entire structure

Concluding cloud type(private, public or hybrid)
Setting up a secured cloud environment based on workload requirements
Pre-Migration
---
Pre-migration planning involves the identification of strategies for data migration, deciding migration priorities, specifying cloud-solution requirements, etc
Readiness assessment of migration infrastructure and tools

Benchmark migration
Network and storage connectivity validation
Migration Execution and Testing
---
As we have strategically identified the existing gaps and remedial actions, our migration process ensures a smooth journey to the cloud. After the entire process of migration, we ensure to check if the critical applications and processes perform exactly on the cloud.
Pilot migration

Identify issues and roadblocks
Validate cloud improvements

Perform acceptance testing
Production Handover
---
Before signing-off the project we perform Quality assurance and User Acceptance Testing. We address the issues and release the delivery. We also hand-over documentation that contains details about your infrastructure migration to the cloud.
QA and UAT

Release delivery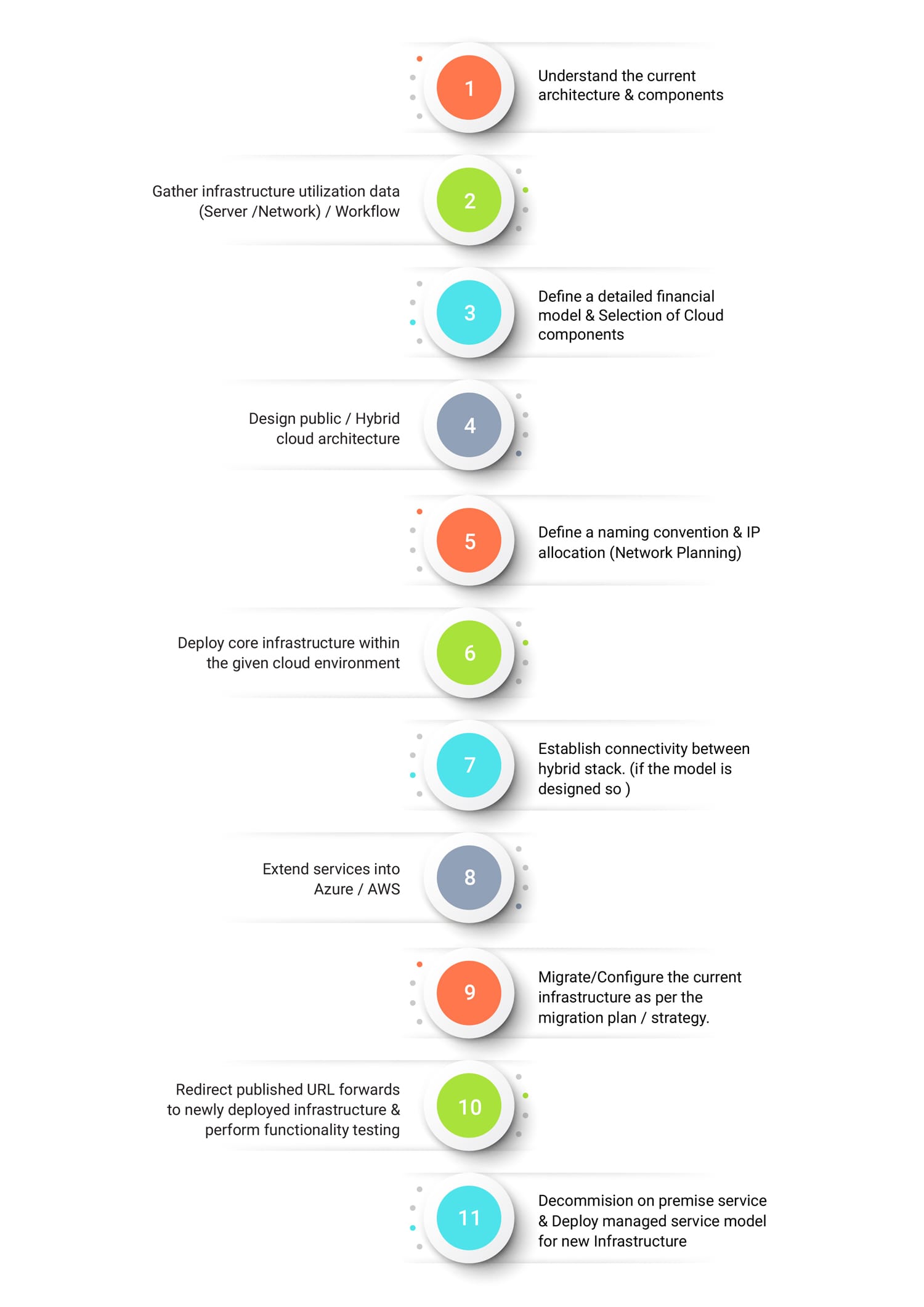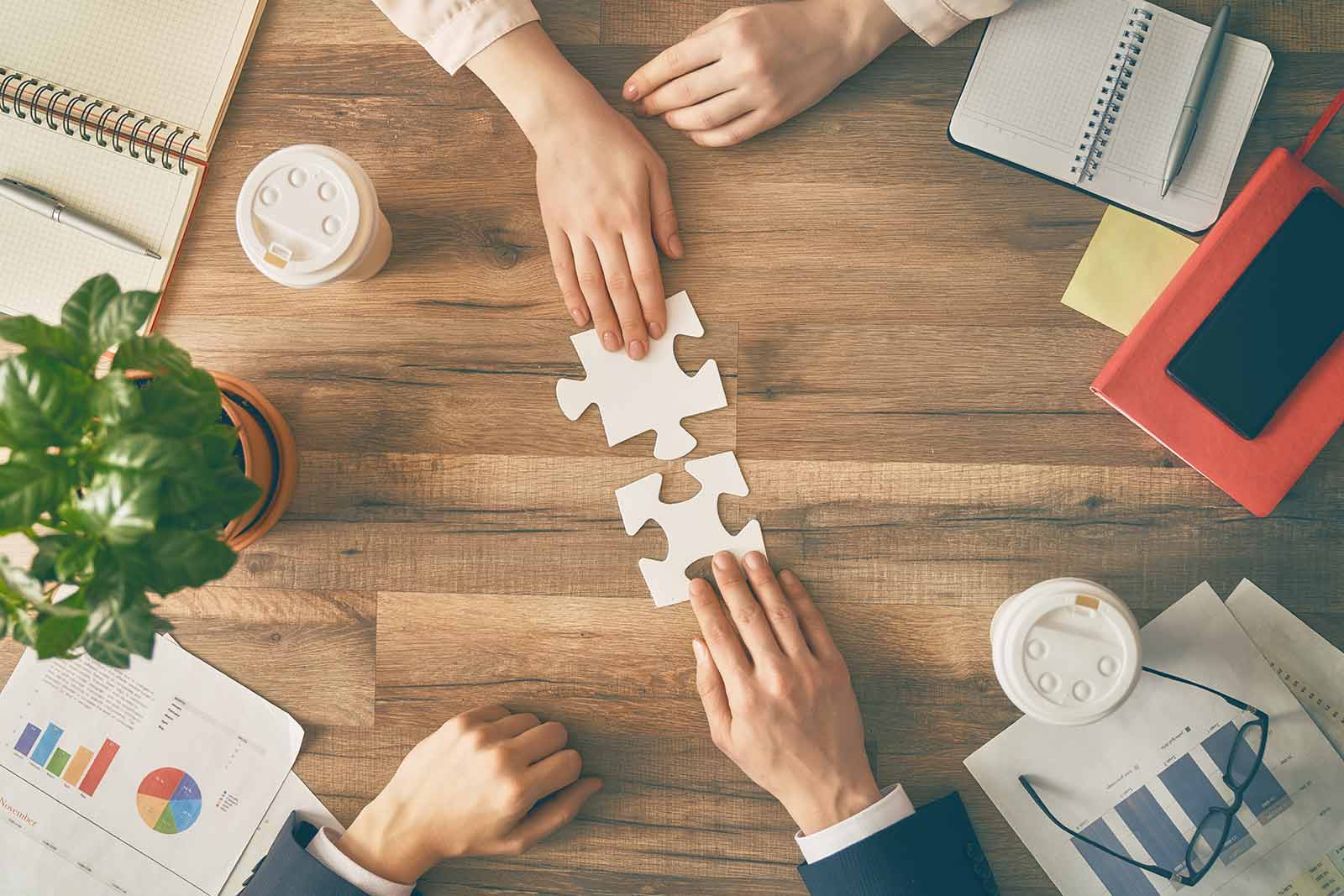 The Migration Strategy
HashRoot ensures to define the right cloud migration strategy with the right cloud platform and plan a perfect roadmap for cloud transformation. We formulate proven expertise in adopting a cost-effective cloud migration strategy that aligns with the organization's requirements.
Take a look at our cloud migration strategies
Rehost
The most popular migration approach also known as "lift and shift" lets organizations to move quickly without any need to make any changes or optimize in the cloud. HashRoot possesses immense experience in successfully migrating servers to the cloud using the "Lift and Shift" approach.
Replatform
Are you an organization looking to migrate to a managed relational database to reduce the amount of time you spend in managing database? HashRoot has the ability to make this happen with "Replatform or "Lift, Tinker and Shift" approach that has the ability to achieve tangible benefits with few cloud optimizations without changing the core architecture of the application.
Repurchase
If your organization is willing to change the existing licensing model you have been using, HashRoot can help here as well. We can carry out this Data Only Migration with "Repurchasing or Drop and Shop" migration strategy.
Refactor
If your organization is looking to boost agility or improve business continuity by moving to a service-oriented architecture (SOA), we plunge into this strategy which is often the most expensive solution.
Retire
It is important to identify the IT assets that are no longer used and direct your attention towards maintaining the resources that are widely used. We propose this migration strategy in such cases, where we turn off the IT assets that are not used and boost your business case.
Retain
We propose this migration strategy when an organization is not ready to prioritize an application because there are some applications that you consider unsuitable for the cloud - or you are simply not ready to make the move.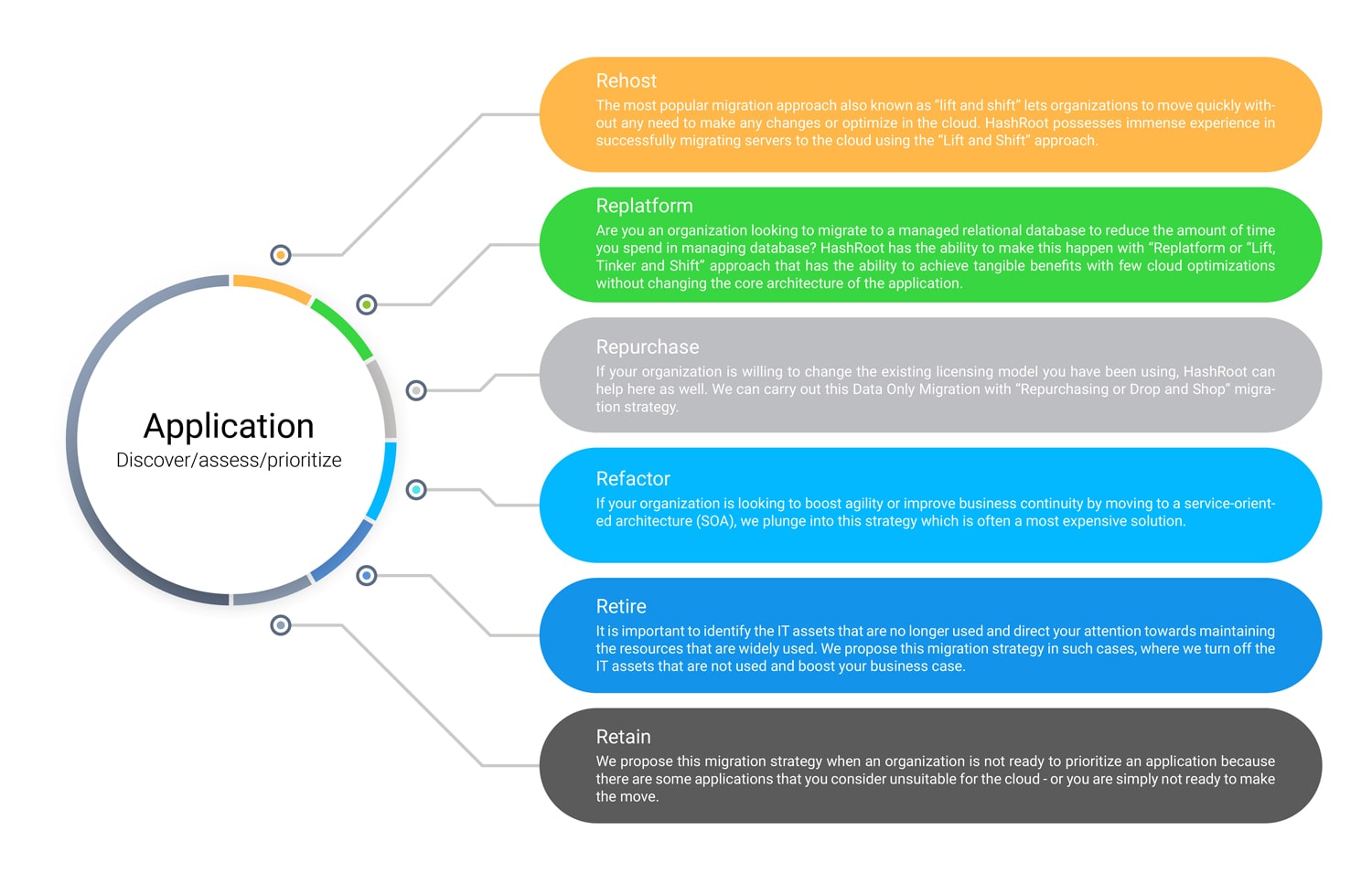 Why Prefer HashRoot's Cloud Migration Services?
---
Fast, easy and secured result-driven migrations

Well-adapted to meet your business demands

Quick transformation to the enhanced cloud capabilities
Seamless integration with minimum work disruption

Secured on-time migration within budget

Maximize your IT investment with increased efficiency
Migrating Your Existing Applications To The Cloud
---
In today's dynamic business-changing requirements, cloud computing plays a major role in driving business growth. Majority of the businesses are keen on adopting cloud technologies to seize new business opportunities and to run their business operations efficiently.
HashRoot's Cloud Migration Portfolio
---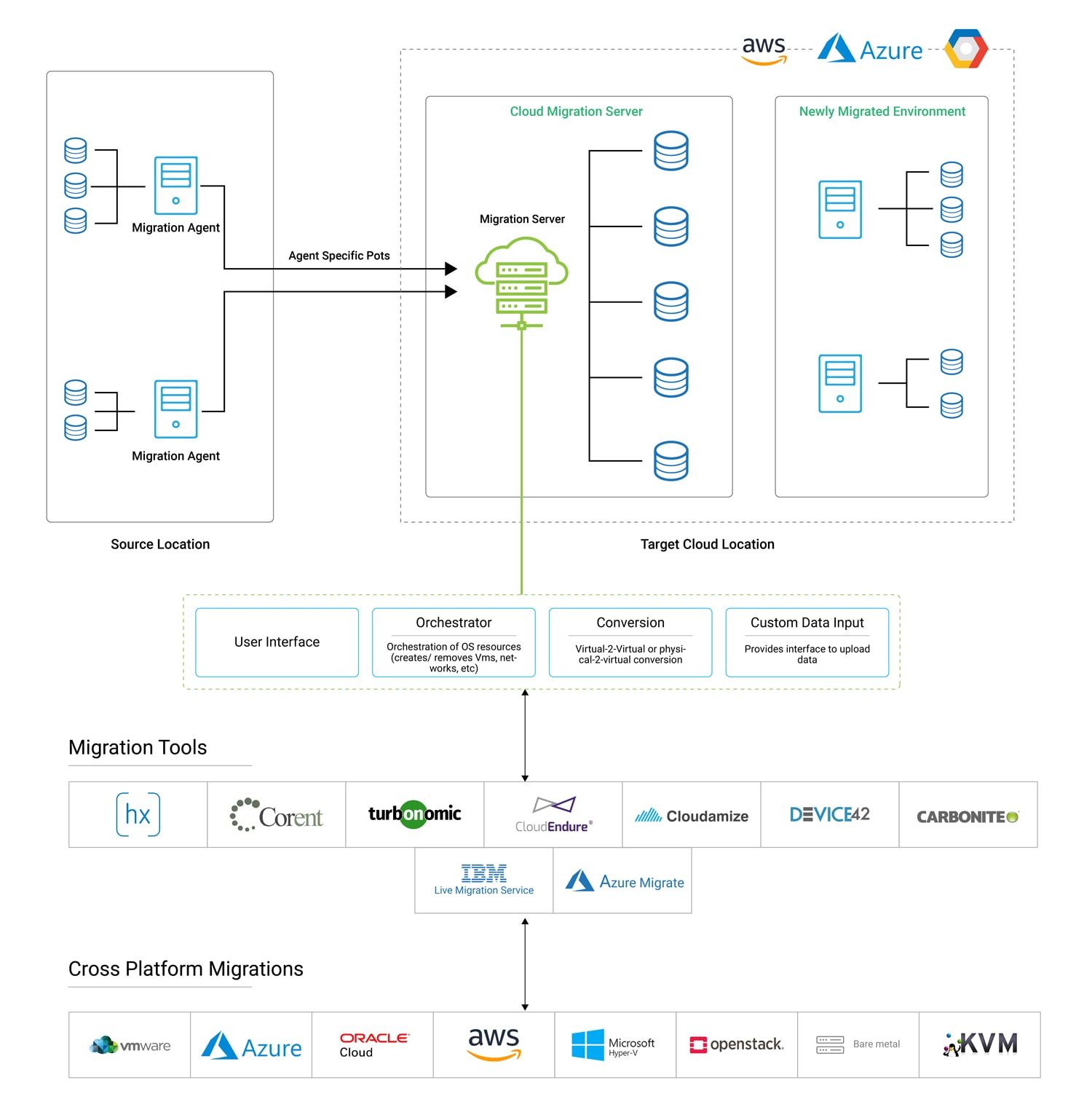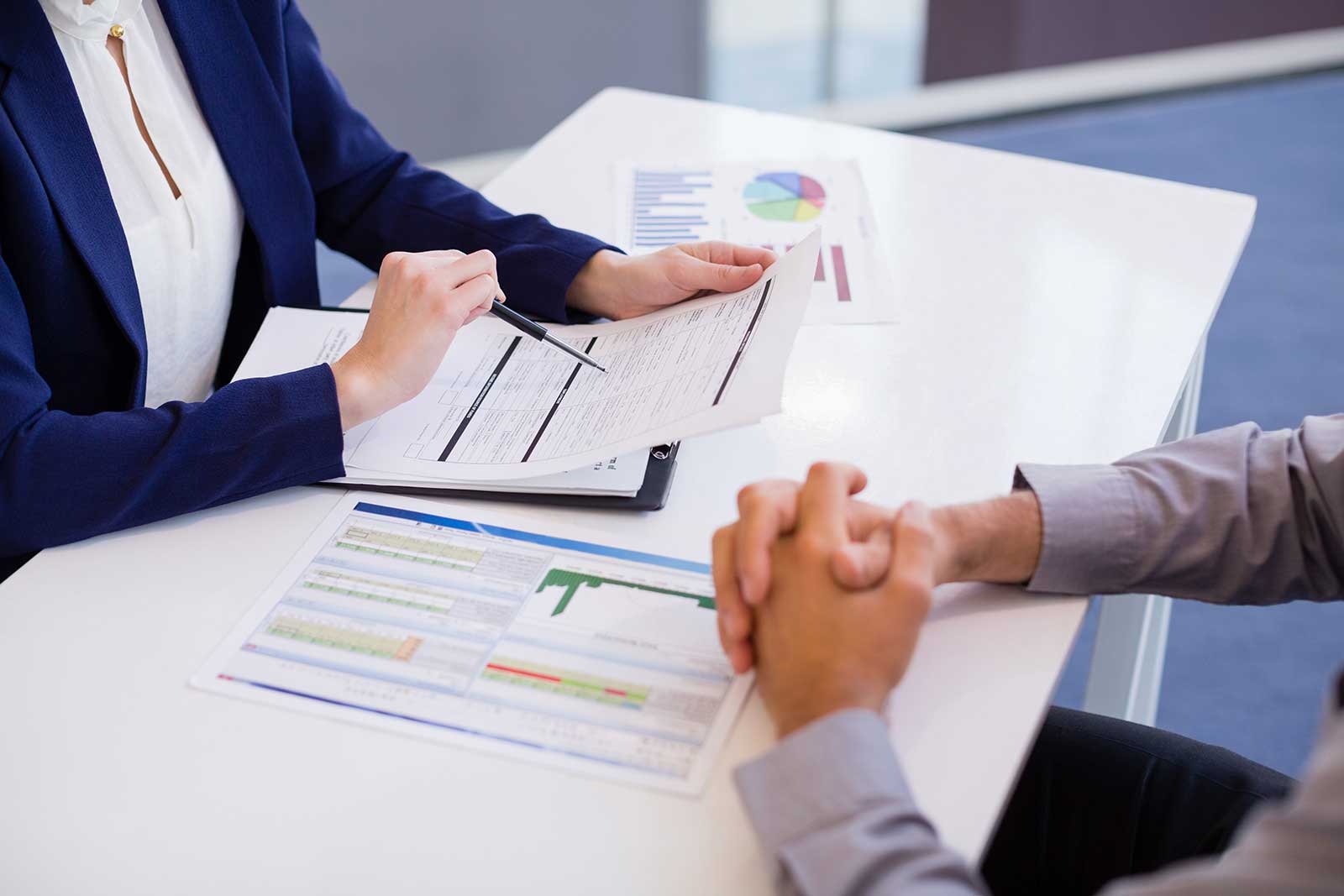 A Phased Strategy For Migration
Cloud migration services from HashRoot helps businesses to leverage the full potential of the cloud by setting up a seamless, modern and secure IT cloud infrastructure. HashRoot's cloud migration services formulate proven expertise in adopting a cost-effective cloud strategy with agile performance and security.
This is the initial phase where we understand our client's business by identifying gaps between existing architecture and next-generation cloud architecture. We also determine which cloud strategy is suitable for achieving higher flexibility, agility and scalability. Our cloud assessment phase includes the following :
Technical And Functional Assessment
---
A technical assessment is required to understand which applications should be moved to the cloud in priority, which applications should be kept in-house, which applications should be re-written and which applications should be decommissioned. This phase covers the following
Identifying the right candidate for the cloud

Creating a dependency tree and classification chart

Identifying tools that can be reused

Identifying licensed products
Roadmap and Plan
---
We will construct a cloud migration roadmap to get an idea on prioritizing applications for migration, the effort required to migrate them, timeline and cost.
In this phase, we perform the following actions.
Documenting dependencies

Creating a dependency tree

Identifying tools that are to build or customize
Security And Compliance Assessment
---
Data security is very important and poses high-risk if not properly analyzed. Our security assessment covers the following
Understanding your risks, threats

Classifying data assets based on the sensitivity

Identifying the datasets to be moved

Identifying the datasets to be kept in-house
In this phase, we pick an application which is cloud-friendly and then perform a migration and deployment test against that application and some dummy data. We conduct POC to provide a benchmark by testing ideas, cost, and assumptions.
Deploy The Cloud or Hybrid Environment
---
Provisioning Virtual Infrastructure
The initial phase in the cloud environment setup is to structure the virtual network. In the case of public clouds, the cloud service provider recommends the network structure in advance for the purpose of sustainability and automation. In the case of virtual private cloud implementations, matching network addressing spaces, namespaces, and other network aspects when connecting the VPN Virtual LAN to existing internal networks requires a significant amount of time and work.
Provisioning The Edge Firewall
To the edge of the internal network, we build a kind of virtual private network We build a kind of virtual private network Uniform Resource Identifier (URI) and ties it to on-premises network resources. This acts as the gateway to the cloud service.
Provisioning Storage
In accordance with the architecture documents, our cloud migration experts build logical units on the cloud's Storage Area Network (SAN).
Virtual Machine Deployment
The virtual machine deployment method lets us create separate virtual machines and attach them to their appropriate storage units.
Reconfigure the Domain Name Service (DNS)
The newly created VMs through the network gateways are updated in the name servers.
Test Network and Server Connectivity
Our cloud consultants perform network connectivity testing to identify performance characteristics and then measure them against the preferred targets from the architecture.
Update Documentation
Clear documentation that contains test results and the changes made to the initial architecture.
Configure Site-to-Site VPN
In case, if the architecture recommends a static site-to-site VPN connection, our cloud migration experts can implement and test it.
Configure Directory Service Connectivity
We ensure to implement and test the connections between the cloud service and the organization's directory service. Also, the federation between the cloud service provider's authentication system and the customer is ensured if specified in the architecture.
Let's discuss your project
Subscribe our newsletter to stay updated!